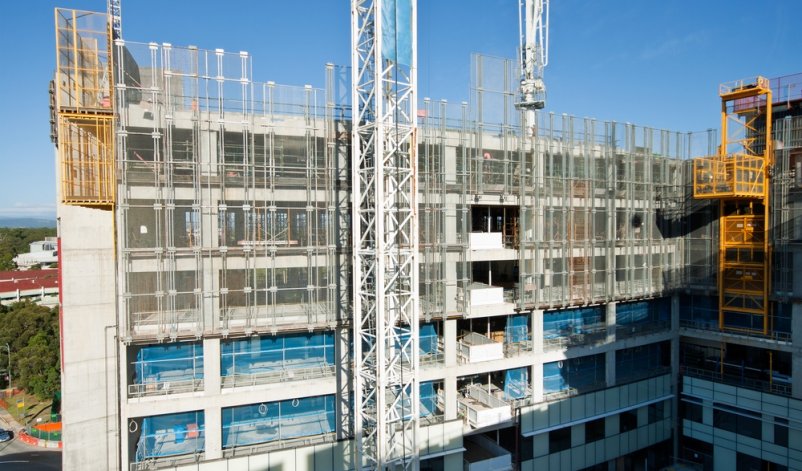 4G connectivity: The construction industry's missing link
Projects in the construction industry are often completed in locations without reliable Internet access. How can a 4G mobility solution help?
An internet line is seldom the first project tackled on a construction site, but architects, builders and other stakeholders depend on connectivity for essential tasks in the field. With cloud-based collaboration playing a growing role in the construction industry, getting online is a key priority.
This is where 4G comes into play, delivering a reliable, high-speed connection for accessing important files and systems.
Collaborative construction in Australia
All across Asia-Pacific, architects, designers and developers are seeing the benefits that arise from higher levels of teamwork – whether through cloud-based sharing of CAD documents or methodologies such as building information modelling (BIM). Already a requirement for certain projects in countries like Singapore, collaboration and BIM are leading to lower project costs, improved delivery timelines and an increased capacity for facilities management after construction is complete.
Australia is a relative newcomer to BIM compared to the rest of the region, but that is likely to change soon, especially as the benefits become clear. According to buildingSMART Australia (bSA), implementing recommendations set forth in the National BIM Initiative could boost the country's economy by $7.6 billion over the next decade. Analyst predictions show this will likely be the case, as Transparency Market Research estimates the BIM market in Australia, New Zealand and India will increase at almost a 24 per cent compound annual growth rate by 2024.
The challenge of on-site connectivity
The cloud has played a major role in enabling this joint work on shared files, all but eliminating the time-consuming process of transferring large amounts of CAD data. This is all well and good for team members in an office environment, but such access isn't as easy to come by out in the field.
4G takes your project wireless when there are no wires available.
It's inevitable that projects grow and change as they progress, so being able to access CAD data from site offices and other remote locations is paramount. This is a huge challenge when there's no guarantee of a reliable internet connection.
When there are no wires, the answer is simple: go wireless. That's the capability delivered with Telarus' 4G network solution – secure, wireless access to your organisation's private network and cloud platform from construction sites, temporary field offices or wherever else work is done.
The Telarus 4G solution is an innovative service that terminates directly into a customer's MPLS private network. The service ensures increased uptime and peace of mind when there is a reliance on the corporate network for daily operations.
Why go wireless?
There are many business efficiencies that can be achieved through the use of a 4G solution in the construction sector.
24/7 Seamless Failover
Telarus 4G Max Uptime provides an effective way to provide failover for wired data connections. Telarus deliver the service through a managed router that will automatically failover to the secondary 4G connection to minimise downtime when an outage is detected on the primary wired service. Once it receives confirmation that the primary connection is back online, the router will automatically revert back to the primary service. Safeguards are in place to ensure that the 4G connection switches back as soon as the primary wired connection is up and stable, which reduces concerns with regard to excess data charges.
Convenient access
Brilliant ideas, impromptu meetings and changing requirements can happen anytime, anywhere. A 4G network connection ensures that team members can roll with these spontaneous developments and incorporate new details into project files immediately. This cuts down on version inconsistency within CAD files and ensures all team members are working with the most up-to-date information. Our 4G solution is not limited to a specific device. If you have remote users who use laptops or tablets that are SIM card compatible, then it's simple to provide them with private connectivity to corporate resources. 4G Max Uptime can also be used to get a new site up and running while you wait for a primary wire-based link to be provisioned. Because 4G can be rapidly arranged and offers great flexibility to work in temporary locations – it's ideal for short term deployments.
Improved stakeholder engagement
Input from clients and other project team members is essential for achieving a successful final result while staying within time and budget requirements. A 4G connection makes it easier to share key project data and files with these stakeholders, wherever these meetings occur.
Higher levels of security
For architects and designers, CAD files are the digital manifestation of valuable intellectual property. As such, firms need to ensure they guard such information against unauthorised access. By connecting to a company's private network via 4G, these files can be used without travelling over the more vulnerable public internet. Because the 4G connection operates within a private network, high levels of security are assured as data does not travel across the public Internet. The Telarus core network infrastructure is hosted in highly regarded, secure data centres, adding extra precautions against cyber-intrusion.
Stronger BIM capabilities
BIM isn't just about 3D CAD models; it rests on the effective flow of information among all parties to a construction project. With a 4G network, organisations are able to follow BIM best practices for collaboration, even on sites without reliable copper or fibre infrastructure.
Telarus is one of the most trusted providers of cloud, network and security solutions in Australia and New Zealand. To learn more about 4G connectivity or our other services, contact us today.