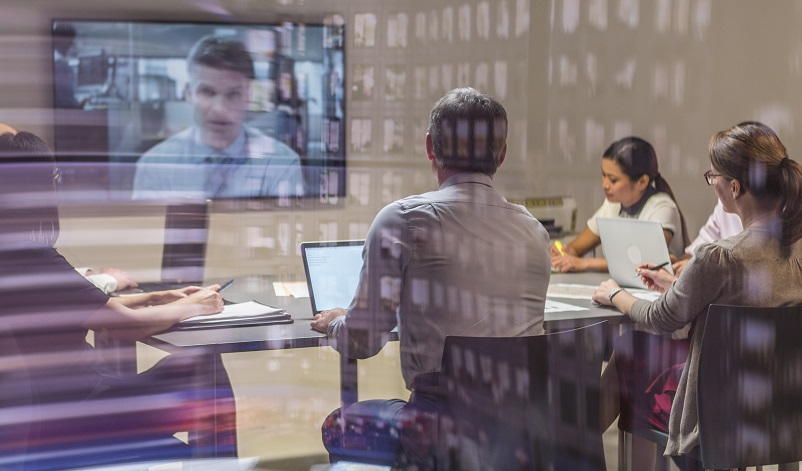 Helping your business communicate – Telarus IP Voice
Telarus offers a comprehensive range of voice services that have been specifically designed to meet the needs of our business customers. We offer both traditional fixed line services and are pleased to announce the launch of Telarus IP Voice – a VoIP-based service that delivers business quality calls at a lower cost.
IP Voice technology will change the way your business communicates by using your Telarus data service connection to deliver your phone calls. Telarus IP Voice uses SIP Trunking to connect you to the standard phone network. SIP runs over IP (the Internet protocol) and connects your in-house phone system to the rest of the world through your data connection, instead of over traditional PSTN or ISDN lines. Telarus IP Voice enables you to eliminate the cost of traditional voice PSTN/ISDN line rental whilst also providing a more cost-effective, efficient and future-proof service.
Our big differentiator is that we deliver IP Voice services over our own managed network so we have better quality control for voice sessions. Unlike Internet based VoIP which is synonymous with poor quality and free calls, the quality of the calls using our SIP trunks is in fact superior to that experienced over a traditional ISDN or PSTN telephone service. The service is monitored by our local team of experts with technical support available 24×7.
By consolidating your voice calls over your data connection you can maximise the value of this service. Telarus IP Voice can also be combined with your legacy phone systems so there is no need to modify phone sockets or re-route cabling, so you can keep your existing infrastructure. Where Telarus IP Voice is deployed across multiple sites, all calls between these locations are free!
As the National Broadband Network (NBN) rolls out across Australia, the copper connections that have historically supported our phone infrastructure will disappear. IP Voice services will become a necessity for your business and will enable you to take full advantage of the NBN.
We currently offer the following Telarus IP Voice products:
A SIP Line service that replaces PSTN services for branch and small office sites.
Telarus SIP Trunk Converged service to replace PSTN/ISDN services over a Telarus private network connection that carries both voice and data. Mostly suited to head office and larger sites. For head offices and larger sites that may not have an existing Telarus network service, we are able to install a Voice only SIP Trunk service.
All Telarus IP Voice products can be provisioned on a variety of data connectivity services including ADSL2+, NBN, EoC (Ethernet over Copper) and EoF (Ethernet over Fibre).
Single Office
For single-site businesses that need to make concurrent phone calls, a Telarus IP Voice solution can offer substantial savings when compared to a traditional fixed line solution.
Telarus can provide SIP services to a single-site via a managed network data service. This SIP Line service replaces your PSTN/ISDN lines but will continue to support your traditional analogue handset, fax and EFTPOS devices.
Head Office with Multiple Branch Locations
For businesses with more than one location, Telarus IP Voice solutions enable you to connect your office locations seamlessly and optimise your communication capabilities.
Telarus offers IP Voice services that can either be delivered over a converged Telarus private network (data and voice) or as a dedicated voice only service over the internet.
Converged Telarus Private Network Service
For customers who are already enjoying a Telarus managed network service (Internet or VPN), we can connect your on-premise IP PBX to our IP Voice network so that your data network connections also carry voice traffic. This business-grade converged voice and data solution eliminates your requirement of traditional PSTN/ISDN services.
Voice Only SIP Trunk Service
For businesses that may not have existing Telarus network services we can connect your on-premise IP PBX to the Telarus IP Voice network via a dedicated SIP trunk service that ONLY delivers IP Voice. This SIP Trunk dedicated network connection will replace your PSTN/ISDN lines.
Centralised Voice Services
Traditionally, Voice services for business have been provided through PBX hardware hosted at your own premises. Moving to Telarus IP Voice means you can remove the expense and risk of maintaining expensive hardware within your head office and branch locations. Providing Voice services centrally reduces risk and can give you options for additional disaster recovery services. Telarus provide options to help you centralise voice services including:
Colocation – you can move your own servers and hardware to our state of the art Data Centres
Cloud Computing – manage your own virtual PBX upon Telarus Private Cloud computing infrastructure
Benefits of Telarus IP Voice
Telarus IP Voice offers some great benefits:
Supports both single-premise and multi-site locations
Free calls between Telarus IP Voice enabled sites
Eliminate PSTN/ISDN line rental charges
Enjoy cheaper call rates for local, national, international and calls to mobiles when compared to traditional fixed line services
Voice calls are treated as a priority across our managed network with QoS (Quality of Service) prioritisation to protect call quality (excludes residential-grade data connections)
Analogue devices such as telephone handsets, fax and EFTPOS at branch or retail sites can easily be incorporated as part of your IP Voice solution
Simplify your communication expenses with accurate billing from one trusted supplier for voice and data
Increase capacity as you need to in single session increments. You are not locked into purchasing blocks of 10 as per traditional ISDN/PRI services
Sites can be managed from a single location
Telarus IP Voice offers significant cost-savings whilst also improving productivity and streamlining business processes.
For a full analysis of your current phone services, call one of our voice specialists and we will provide a detailed review and discuss your specific requirements.